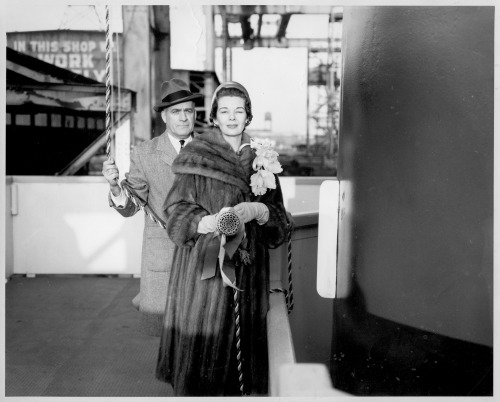 We're getting our Wednesday off to a smashing start with these photographs of the launching of a Socony Mobil Oil Companytanker in New York City, taken on this date, December 30, in 1958.
The ship was built by Chester, Pennsylvania's Sun Shipbuilding and Dry Dock Company, with launching ceremonies conducted by John G. Pew, Jr.and Nancy Wilhelmina Bellman. Pew was the son of John G. Pew, the Sun Shipbuilding's first president, who retired from the company in 1950. At the time this photograph was taken, the younger Pew was vice president in charge of public relations. Bellman was the wife of Vernon A. Bellman, then director of domestic marketing for the Socony Mobil Oil Company.
Sun Shipbuilding's incorporation was originally meant to create a subsidiary that would provide oil tankers for the Sun Oil Company. But it also produced ships for customers other than Sun Oil, and produced ships other than tankers. The company also built car floats, ferries, and grain barges for Pennsylvania Railroad, a ferry for use in Hawaii, and tankers for other oil companies, like the one seen here. Additionally, during WWII, the company contracted with the National Defense Program, which helped to make the Sun Shipyard one of the largest in the country and the single biggest producer of oil tankers.
These images are from Hagley Library's Sun Shipbuilding and Dry Dock Company photograph collection (Accession 1974.319). This collection features photographs of completed ships and launchings, shipyard views, personnel photos, photographs of company-sponsored social events, films showing construction projects in progress and launches, and other assorted material related to the company's activities.