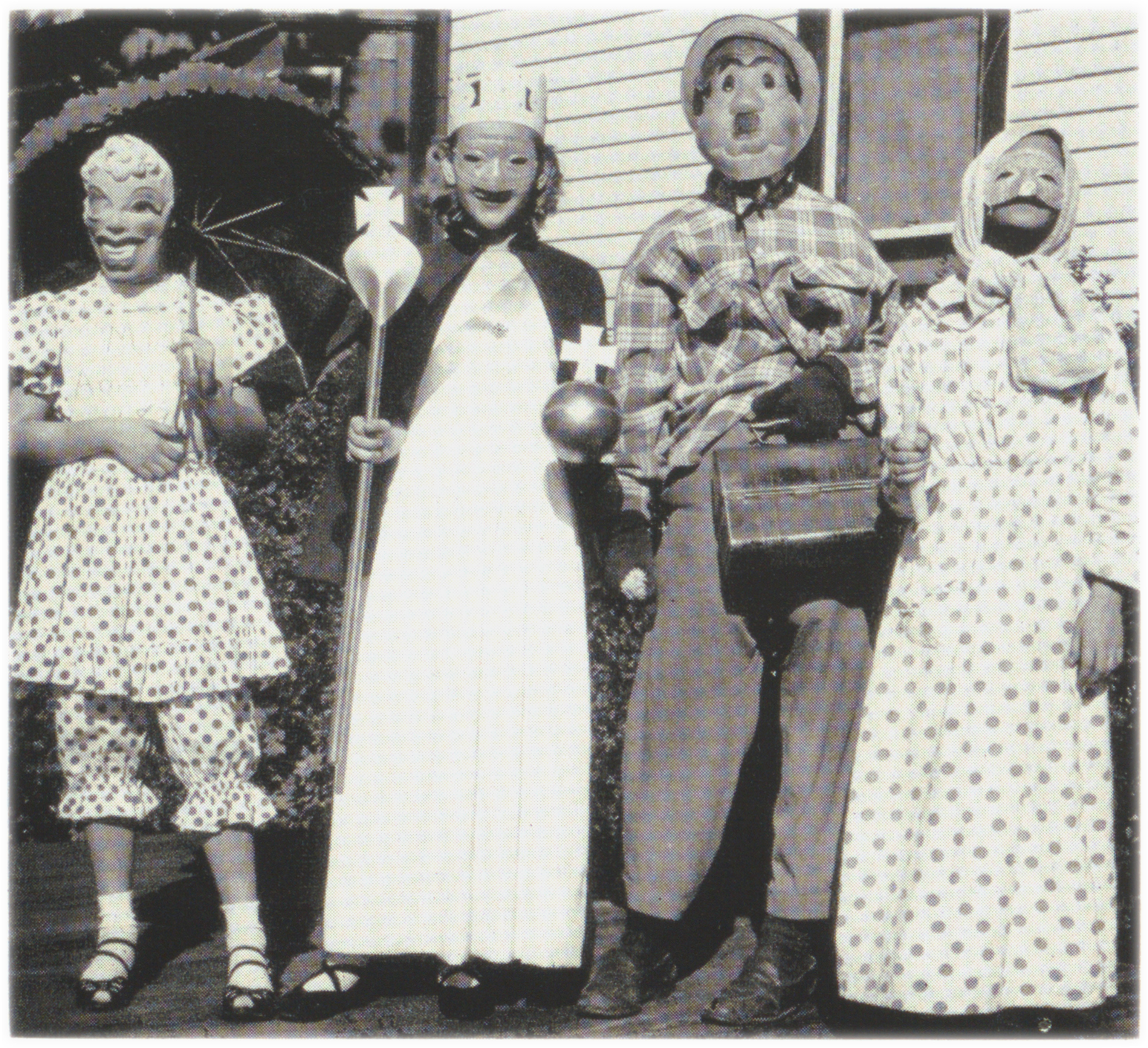 We're heading into the Halloween weekend in good spirits, thanks to the November 1953 issue of Lukens Life magazine, which covered that year's Benner School Halloween parade in Coatesville, Pennsylvania.
This photograph shows the fifth grade winners of the school's costume contest, identified in the text as children of Lukens Steel employees - "(left to right) Peggy Renz, daughter of Arthur W., Pipe Shop; Carol Zadorozny, daughter of Harry, Open Hearth; Jill Wike, daughter of James T., Lukenweld; and Joan Lusky, daughter of Charles, Electric".
Lukens Steel is located in Coatesville, Pennsylvania. First established in 1793 by Isaac Pennock (1767-1824) as The Federal Slitting Mill, it is the oldest steel mill still in commission in the United States. In 1810, Pennock went into a partnership with Jesse Kersey to form Brandywine Iron Works and Nail Factory.
After seven years as partners, Pennock bought Kersey's share of the business and then leased it to his son-in-law, Dr. Charles Lloyd Lukens (1786-1825). The firm was incorporated as the Lukens Iron and Steel Company on February 5, 1890.
Over time, it grew to become a medium-sized producer of specialty steel products and one of the top three producers of steel plate in the country. It is also notable for being the first industrial company in the United States led by a woman.
Rebecca Lukens (1794-1854), the daughter of Isaac Pennock and the wife of Charles Lloyd Lukens, first operated the mill alongside her family members from a young age. After Charles died in 1825, Rebecca became the mill's sole operator until 1847, when she retired and became a silent partner to the mill's new operators, her sons-in-law Abraham Gibbons and Dr. Charles Huston.
This photograph is from Hagley Library's digital collection of Lukens Steel Company newsletters. This collection includes the employee newsletter of the Lukens Steel Company produced between 1935 and 1989. The newsletter was called Lukens Plate through 1949, then was renamed Lukens Life after 1950. The issues include information about the Lukens community; retirement, engagement, and wedding announcements of Lukens employees; and other relevant industry news. To view the collection online now, click here.