It is time for another installment of the series I seem to have created: "Who's who," where I delve a little bit further into the life of someone who worked at NAM and who's name I have come across multiple times. So far, I have looked into James Van Cleave, Vada Horsch, Ira Mosher, and Doug Kenna. Today, we are going to take a closer look at Louise Bushnell. 
Louise Bushnell was the director for the Women's Department at NAM from 1957 until the early 1970s, likely when the organization moved from New York to Washington, DC in 1973. But her life is filled with fascinating details. 
Louise Bushnell was born December 29, 1908 to Ericcson Foote and Bertha (Tudor) Bushnell in Manhattan. She graduated from the Spence School on the Upper East Side of New York City and the University of Lausanne in Switzerland. 
On March 30, 1935, Bushnell married Allerton Cushman, a member of the 1928 American Olympic track team and 1929 Harvard graduate. They had two children: Allerton Cushman Jr. and Tudor Cushman. The marriage ended in divorce in 1942. Just a few days later, on September 9, 1942, Bushnell married Thomas H. W. Stonborough. Stonborough was the son of Jerome Stonborough and Margaret "Gretl" Wittgenstein, of the prominent and wealthy Viennese Wittgenstein family. Bushnell and Stonborough divorced in 1946. With the second divorce, Bushnell petitioned the judge for permission to resume the use of her maiden name, which was granted, and she went by Mrs. Bushnell. 
After graduating from collecte, Bushnell taught French in New Canaan, Connecticut, and a private school in New York City. In 1941, unable to sit idly during World War II and while her husband was in the military, Bushnell went to Washington and joined the Office of Strategic Services (OSS) as the secretary to the first director, General William J. Donovan. The OSS was the predecessor to today's Central Intelligence Agency (CIA). Bushnell was also able to use her fluency in French to assist the war efforts. She interviewed French-speaking refugees and maintained contact with the French underground. To an untrained eye, her letters going into France seemed harmless, however, slight oddities were able to send hidden messages that would provide vital information. 
During her time with the OSS, Bushnell worked for two years (1942-1943) as the chief of the Ordnance Information Service, U.S. Ordnance District in New York City where she lectured on the great importance of women's participation in the war effort. 
To me, one of the most intriguing aspects of Bushnell's life also comes from her tenure at the OSS. She worked as a counter-espionage agent. That's right, a spy. Bushnell used her societal standing to forge relationships with upper-class Germans, Belgians, and other expatriates as well as some Nazi sympathizers. She was able to gather information about the internal politics of their homelands. 
From 1947 to 1957, Bushnell worked for the American Cancer Society. During her tenure there, she represented the society throughout the United States in public relations, education, and the development of service and information programs. She called for more volunteers to help cope with the increasingly grave problem of cancer during a 1949 tour of the society's work. 
In 1957, she went to work for NAM's Women's Department. The department developed material to frame NAM's positions in a way as to meet the concerns of women and call them to action. This must have been an excellent fit for Bushnell, as it was a call she had been championing for years. Bushnell delivered speeches to women across the country. Additionally, she traveled abroad as a guest of the governments of Belgium, South Vietnam, and France. She used these experiences in other speeches she gave. After stepping down as director of the department, she continued to serve as a liaison for NAM with volunteer organizations.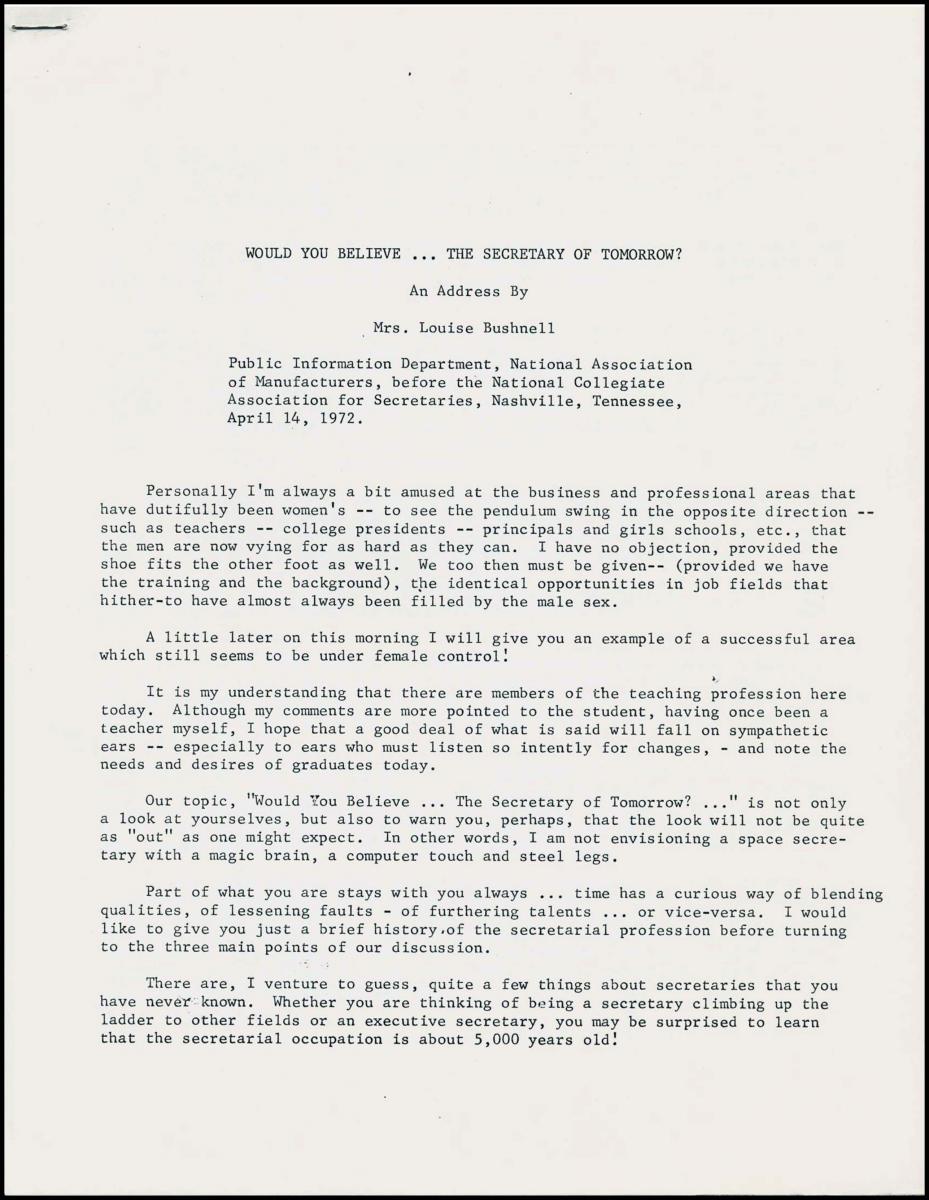 To read some of the speeches, please consult the Women's Department series or look up "Louise Bushnell" in the series II card index to be directed to her numerous speeches.
---
Ashley Williams is the project archivist for the NAM Collection at Hagley Museum and Library.