Also known as: Swift & Courtney & Beecher; Diamond Match Company
Owner: Edward Tatnall, H.B. Courtney, William H. Swift
Industry type: Match factory
Location: Brandywine Village
Active dates: 1854-1896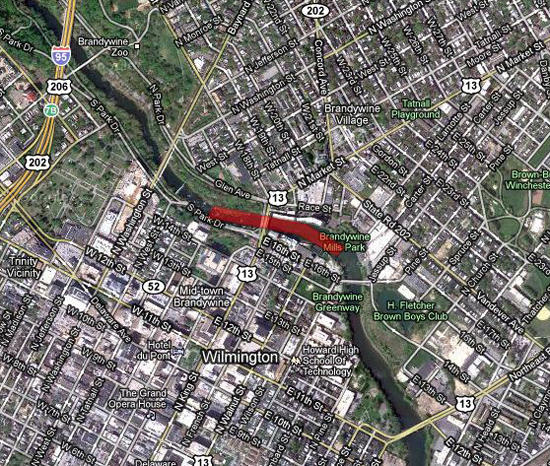 Summary: The business that would become Swift & Courtney opened in a one-story, 1650 sq. ft. building on the northwest corner of 14th and Walnut Streets in 1854. The business was owned by Edward Tatnall; H.B. Courtney, an experienced match-maker, served as foreman. In July 1861, Tatnall sold the largely unsuccessful business to Courtney and a new business partner, William H. Swift, for $1,400.
In May 1870, Swift & Courtney merged with the Connecticut-based match company A. Beecher & Sons, becoming Swift & Courtney & Beecher. The business rapidly expanded, and by 1874, the factory occupied an entire city block and specialized in the manufacture of sulfur-free "parlor matches." The company employed many women and girls in its match-making operation. In 1881, Swift & Courtney & Beecher merged with several other match manufacturers to form the Diamond Match Company.
The new company was based in Ohio but continued making matches at the Wilmington site until 1896.
Citations: Case, Leon and Horace Greeley. The Great Industries of the United States. Hartford: The J.B. Burr Publishing Co., 1874. 1223-1230.
National Park Service. National Register of Historic Places Inventory Nomination Form: East Side Brandywine Historic District, November 1985.
Zebley, Frank R. Along the Brandywine. Wilmington: William Cann, Inc., 1940, 199.
Fire insurance map, Hexamer General Survey, Vol. 27, 1897. Free Library of Philadelphia.
Online Primary Sources & Images: Pomeroy and Beers, Atlas of the State of Delaware, 1868. Hagley Digital Archives.