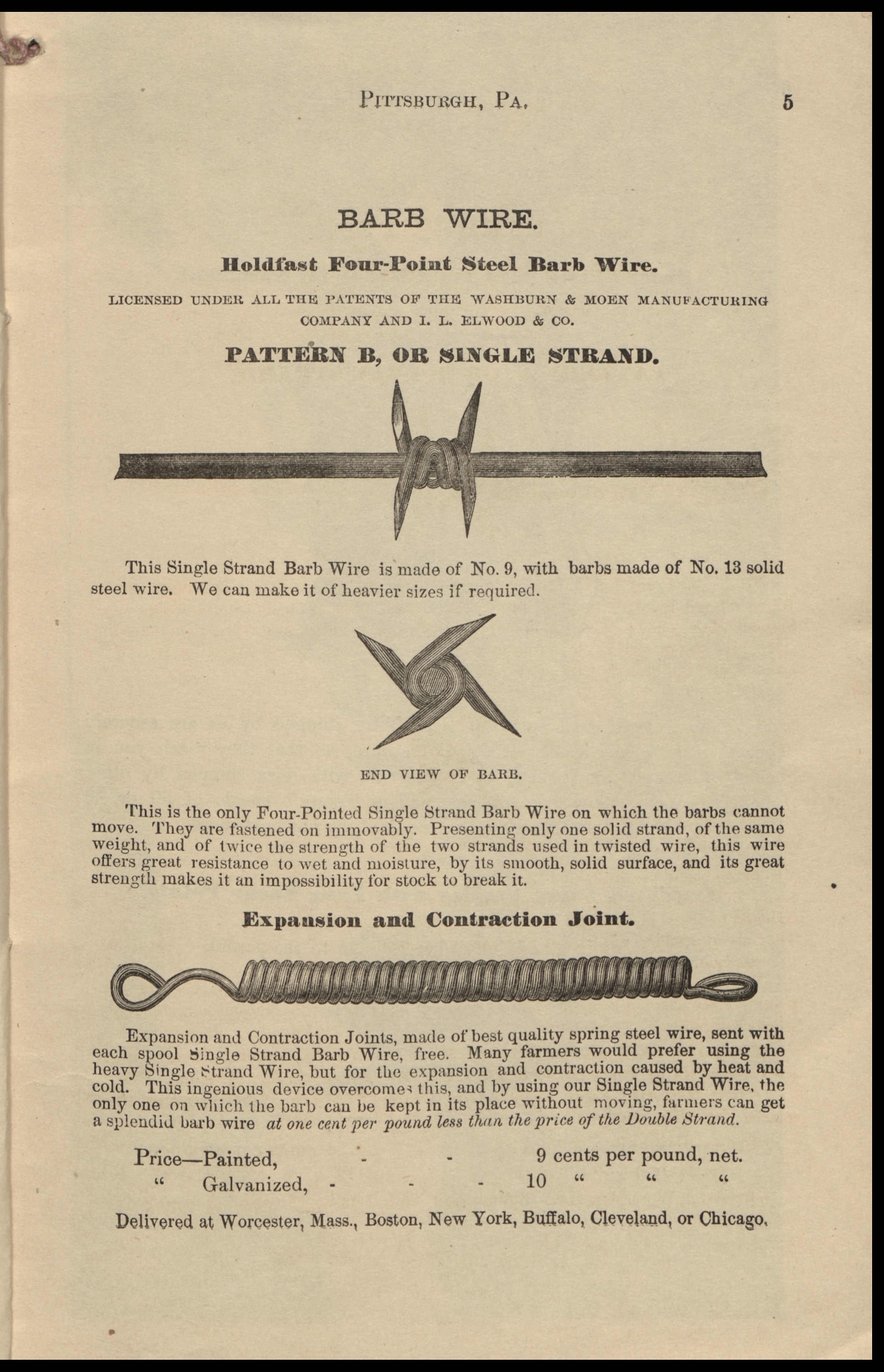 On this date, October 27, in 1873, the farmer and inventor Joseph Farwell Glidden (1813-1906) filed a patent for an "improvement in wire-fences" that he developed to help fence in cattle. The patent was awarded on November 24, 1874 and made Glidden, by then 61 years old, the (only somewhat disputed) inventor of modern barbed wire.
Glidden's claim didn't come without challengers. Glidden lived in DeKalb, Illinois; another resident of the town soon initiated a legal battle over whether or not Glidden's design for securing the barbs to the wire was, in fact, a novel or improved design, and earlier patents for barbed wire that did not result in commercial success had been awarded. But when the the legal battle concluded in the U.S. Supreme Court in 1892 (the same year his patent expired), Glidden prevailed.
It was also Glidden's design and ensuing commercial efforts that were credited with closing the open ranges of the American Mid-West, making large-scale farming on the plains viable for cattle ranchers. Glidden teamed up with a local rancher and hardware dealer, Isaac L. Ellwood (1833-1910) to form the Barb Fence Company, which sold fencing using Glidden's design. That company thrived. Years of mergers, expansions, and reorganizations turned it into the American Steel and Wire company, which enjoyed an effective monopoly in the barbed wire market before being bought by the U.S. Steel Manufacturing Company in 1901.
The page shared in this post is from the ca. 1880 catalog Handbook of Fencing: Useful Information for Farmers, issued by the Kimmons Bros. company of Findlay, Ohio. The company, founded in 1858, sold agricultural implements and supplies. This catalog is call number Trade Cat .O49 1880 in Hagley Library's collection of trade catalogs and pamphlets. To view the catalog in full in our Digital Archive, just click here.