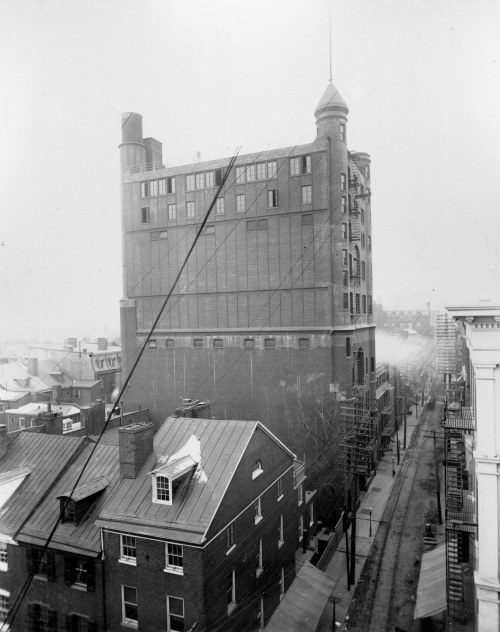 Thomas Edison's Edison Electric Light Company began operations on this date, October 15, in 1878. One of many business entities founded by Edison, the Electric Light Company was a patent-holding corporate entity backed by J. P. Morgan and the Vanderbilt family for the purposes of funding Edison's experiments with the incandescent bulb and electric lighting.
In 1890, the company would merge with By 1890, several other Edison companies to become the Edison General Electric Company, which then merged with the competing Thomson-Houston Electric Company in 1892 to become the General Electric Company. This ca. 1890 photograph shows the Edison Electric Light Company of Philadelphia, which once stood at 908 Sansom Street. The subsidiary company was organized in December 1886 with the backing of the Edison Electric Light Company of New York. The company used the Edison system and constructed what was then the largest central generating station in the world in 1889.
By 1895, the Edison company was the largest and most profitable electric company in Philadelphia, but it was facing a number of competitors, each running their own lines of wires above city streets to provide service. By 1902, Philadelphia decided to consolidate these services, and the Philadelphia Electric Company was formed to operate as the city's sole provider of electricity in the city.
This image is part of Hagley Library's collection of Warren-Ehret Company photograph albums (Accession 2002.251). The company, which provided roofing services for the Edison Electric Light Company of Philadelphia, was a roofing company founded in 1852. The collection has not been digitized in its entirety, but you can view an online collection of 178 images selected from three unbound albums (circa 1900) which were used as sales portfolios to show the variety and extent of Warren-Ehret's roofing jobs on a variety of buildings. The buildings are predominately industrial structures, but the collection also includes railroad company buildings, offices, stores, apartments, and private homes. The collection covers buildings in the greater Philadelphia area and the surrounding areas of Pennsylvania, New Jersey, New York City, and Connecticut. Click here to view it now in our Digital Archive.