Owner: Joseph Tatnall, Edward Tatnall, Thomas Lea
Industry type: Flour mill
Location: Brandywine Village
Active dates: c. 1770-1864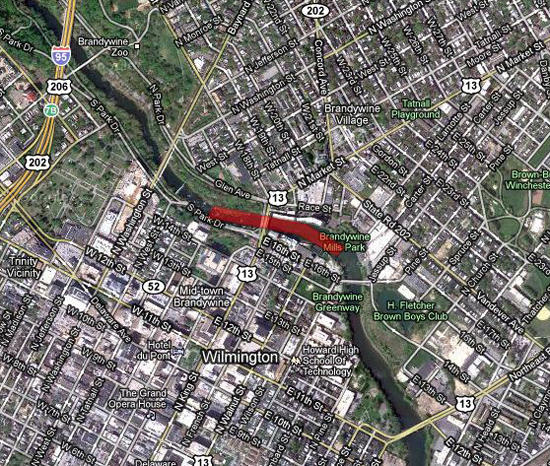 Summary: In 1770, Joseph Tatnall, a prominent Quaker merchant in Wilmington, hired James and William Marshall to construct a mill race on the north bank of the Brandywine. The Marshalls could not finish the race due to extensive rock in the area, so Tatnall and his son-in-law, Thomas Lea, took over the contract.Tatnall and Lea built several mills below the Market Street Bridge in Brandywine Village. They furnished large supplies of grain to colonial soldiers during the Revolutionary War and also traded flour and corn to the West Indies.
Tatnall Family Mills was eventually combined with Thomas Lea's Mills to form William Lea & Sons, Co. in 1864.
Citations: Conrad, Henry Clay. History of the State of Delaware, Vol. 2. Lancaster, Penn.: Wickersham Company, 1908
Matson, Cathy and Wendy Woloson. PEAES Guide to Manuscripts and Print Resources for Research: Historical Society of Delaware.
Zebley, Frank R. Along the Brandywine. Wilmington: William Cann, Inc., 1940, 182.
Online sources / images: Mill Seats on the Brandywine River, map, 1813. Hagley Digital Archives.
Pomeroy and Beers, Atlas of the State of Delaware, 1868. Hagley Digital Archives.