Owner: Thomas Lea, William Lea
Industry type: Flour mill
Location: Brandywine Village
Active dates: 1811-1864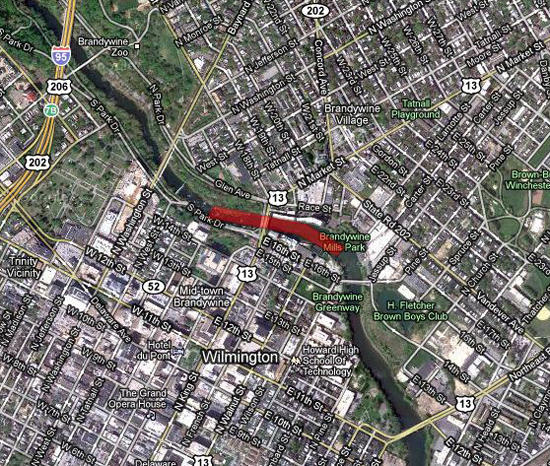 Summary: Thomas Lea operated several grist mills in Brandywine Village with his father-in-law, Joseph Tatnall, as well as mills on Red Clay Creek in central New Castle County. Lea built an additional mill in Brandywine Village in 1811; it was destroyed in a fire on October 4, 1819. Lea died in 1824, and his son, William Lea, later rebuilt the burned mill. William, along with his sons, Preston Lea and Henry Lea, eventually took over all of Thomas Lea and Joseph Tatnall's mills on the Brandywine, renaming the company William Lea & Sons, Co. in 1864.
Citations: Matson, Cathy and Wendy Woloson. PEAES Guide to Manuscripts and Print Resources for Research: Historical Society of Delaware.
Zebley, Frank R. Along the Brandywine. Wilmington: William Cann, Inc., 1940, 183.
Online sources / images: Pomeroy and Beers, Atlas of the State of Delaware, 1868. Hagley Digital Archives.