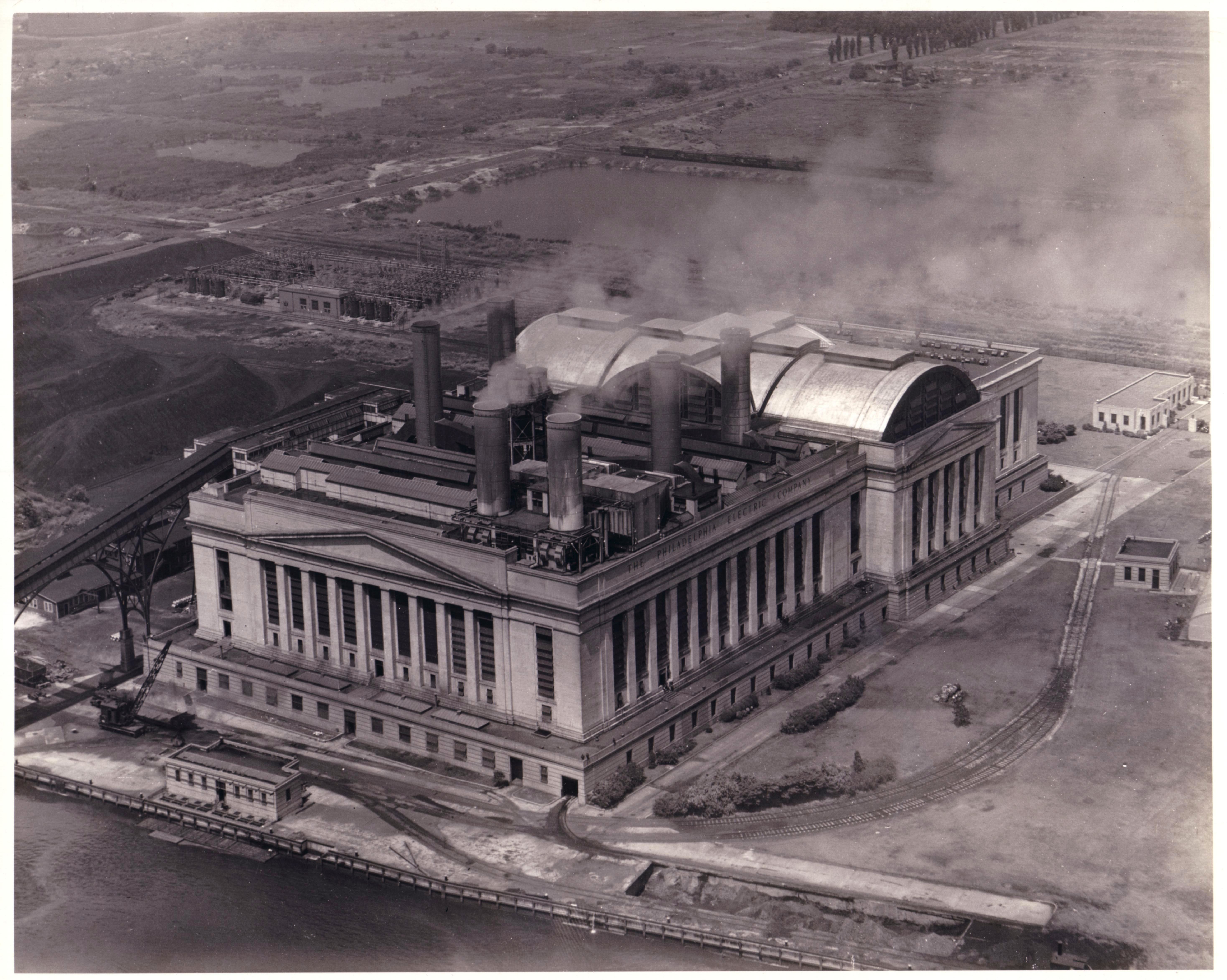 On this date, October 13, in 1860, James Wallace Black (1825-1896) created the first successful aerial photograph in the United States and the world's first successful aerial photograph of a city. The image, which he titled Boston as the Eagle and the Wild Goose See It, was created from the hot-air balloon The Queen of the Air and showed Boston as viewed from a height of 1,200 feet.
This aerial photograph, captured on July 1, 1941, shows a different city. This image is of the Philadelphia Electric Company's Richmond Generating Station, built at Delaware Avenue and Lewis Street in 1925.
The photograph was created by the Dallin Aerial Surveys Company, a business founded by Colonel J. (John) Victor Dallin (1897-1991) in 1924. Dallin was a Royal Flying Corps-trained pilot who served in World War One; in the latter stages of the war, he was sent on aerial photography service for reconnaissance missions.
After the war, in 1919, he put that experience to use when joined Bishop and Barker, a firm which did some aerial survey work. In the 1920s, he worked at the Philadelphia Aero Service Corporation, which operated a flying school in South Philadelphia. In 1924, he left to establish his own company and started Dallin Aerial Surveys as a single proprietorship.
Dallin Aerial Surveys' clients included newspapers, businesses, municipalities, and private individuals, who contracted with the company for aerial images of factories, private estates, schools, country clubs, towns, airports, rivers, and newsworthy sites and events.
During its years of operation, the company produced not only oblique photographs of various sites for commercial purposes but did a considerable amount of aerial photogrammerty (aerial mapping of a city, specifically the city of Philadelphia). To carry out his work, Dallin designed several specialized cameras and mounters. A camera used for film negatives in the 1930s had a thirty-inch lens so that high vertical views could be made without flying excessively low over urban areas.
The Dallin Aerial Surveys Company closed in 1941, reportedly because he rejoined the armed services for WWII. Today, the company's photographs live at Hagley Library in our collection of Dallin Aerial Survey Company photographs (Accession 1970.200). Our Digital Archive also more than 7,800 images from the Dallin Aerial Survey Company collection. Most of the photographs concentrate on the Mid-Atlantic region covering a period from 1924 to 1939. To view the digital collection online now, just click here. To learn more about the Dallin Company and the collection, visit our online exhibit A Bird's Eye View of the Delaware Valley: The Photography of the Dallin Aerial Survey Company