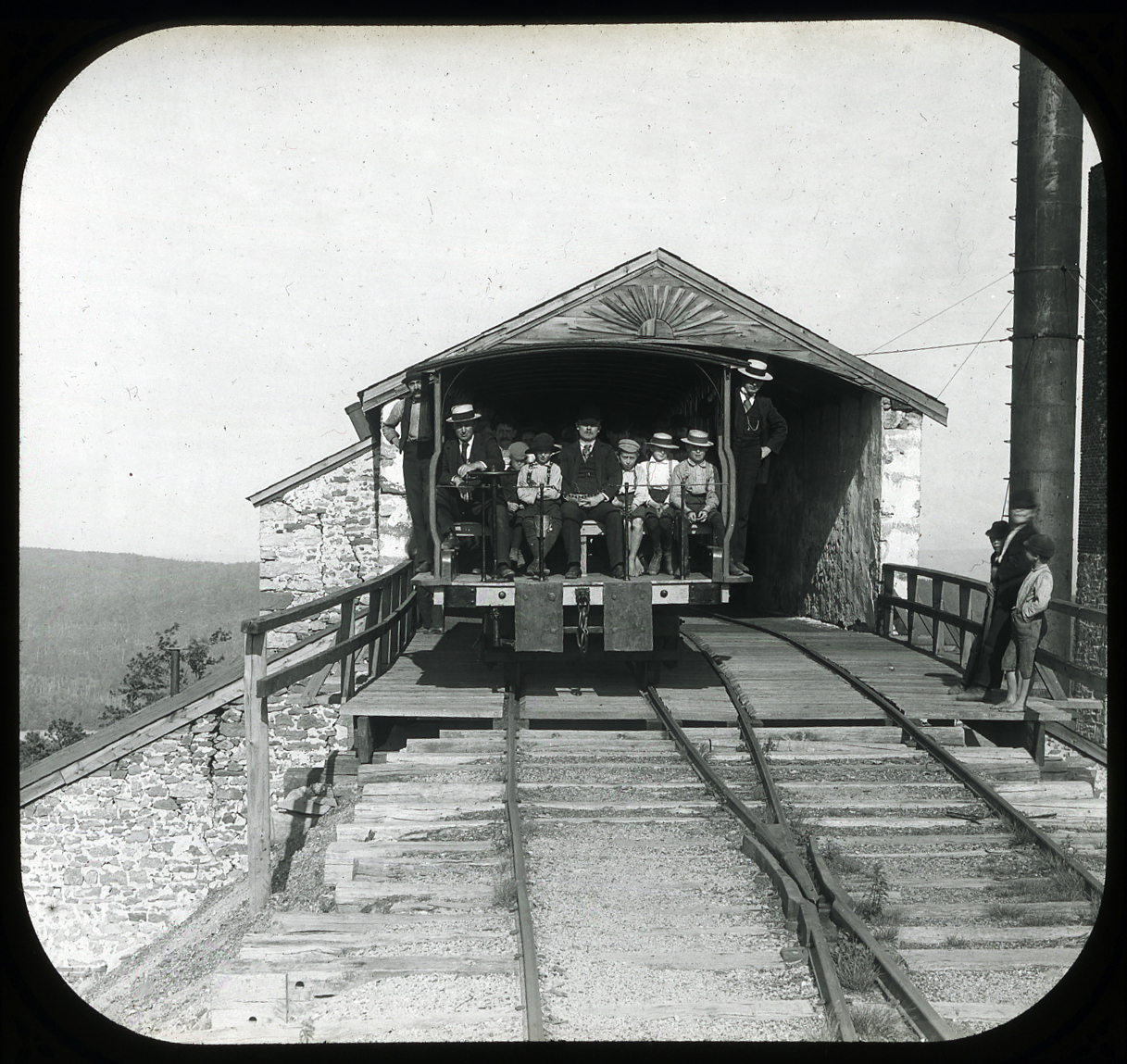 On this date, August 16, in 1898, the first U.S. patent for a vertical loop roller coaster was issued to Edwin Prescott (1841-1931), an inventor and mechanic from Arlington, Massachusetts. Prescott's Loop the Loop coaster, a dual-tracked steel roller coaster, was installed at Coney Island, New York from 1901 to 1910.
In recognition of the date, we're sharing this photograph of passengers aboard the Mauch Chunk Switchback Railway, the "World's First Roller Coaster", seen here in a ca. 1895 photograph by William H. Rau (1855-1920). This railway was originally built in 1828 by the Lehigh Coal & Navigation Company to transport coal between the company's mines in Summit Hill and their transport center in Mauch Chunk (now Jim Thorpe), Pennsylvania.
This railway operated between two mountain summits, Mount Pisgah and Mount Jefferson, and relied on a combination of animal power and gravity to transport cars and freight between these two terminals. In 1846, animal power was replaced by two two steam-powered funicular systems to haul the cars uphill, but travel downhill continued to rely on the power of gravity.
In 1872, the Lehigh Coal & Navigation Company completed a tunnel that allowed for a faster, more efficient line of railway travel. But the Mauch Chunk Switchback Railway continued to operate for thrill-seeking human cargo, who had begun riding this route as early as 1827 (making this not just the first rollercoaster, but the first operational U.S. railway of any substantial length to carry paying passengers). 
By 1874, the railway was being operated by the Central Railroad of New Jersey as a tourist attraction, selling 80-minute, 18-mile rides to approximately 35,000 tourists each year for the cost of $1. The thrill ride was sold to the newly formed Mauch Chunk Switchback Railway Company in 1929, who operated it until 1932, when it was closed due to financial strain caused by the Great Depression.