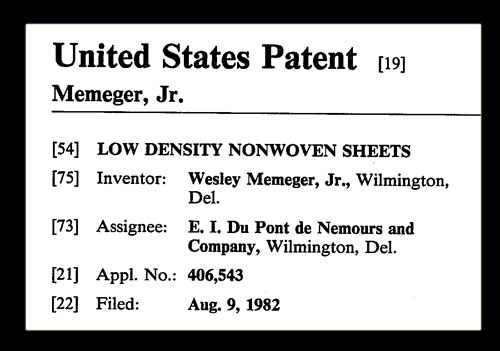 The path from patent to product is rarely linear.
As Dr. Memeger explains in his interview, "the purpose of a patent is to protect those technologies which you might find to offer utility for products."
Dr. Memeger earned fourteen patents during his career at DuPont. In 1985, he was granted a patent for his method of producing low-density nonwoven sheets of synthetic polymers. Memeger found that by introducing pores into paper-like sheets comprised of something like Nomex—a product similar to Kevlar and prized for its flame resistance— what resulted was an expanded material that looked like fabric; was very lightweight; and that maintained, or even increased, its flame-resistant properties.
In this clip, Dr. Memeger describes how such properties are useful in something like aircraft seating and discusses the method covered by his patent:
The banner image includes a detail from Toward Disharmony II, a painting by Wesley Memeger Jr. Images in this digital exhibit (unless otherwise noted) are from the private collection of Wesley Memeger Jr.