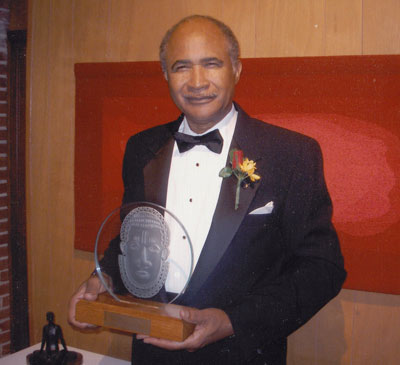 Dr. Wesley Memeger has served on the board of directors of various charitable and cultural organizations.
In the early 1970s, he joined the board of the Delaware Council on Crime and Justice, which was dedicated to ensuring fair treatment for people recently released from prison. He also served on the boards of the Delaware Center of Contemporary Arts and the Delaware Symphony Association, where he chaired the music committee from 1995 to 1998.
For his service to Wilmington cultural institutions, he received the Christie Award for Outstanding Philanthropic Activity from the Christiana Cultural Arts Center in 2007.
In this clip, he speaks of his proudest achievement on these boards—the introduction of Black composers to the Delaware Symphony, including a 1997 performance of "Sons of Nam" by composer J. Kimo Williams: 
Read more about African American composer J. Kimo Williams at https://jkimowilliams.com/
The banner image includes a detail from Toward Disharmony II, a painting by Wesley Memeger Jr. Images in this digital exhibit (unless otherwise noted) are from the private collection of Wesley Memeger Jr.