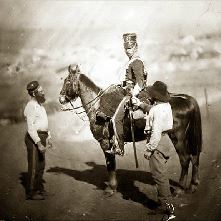 Making a gunpowder purchase during the 1850's was not an easy task, especially for large orders like the ones made for the Crimean War. A typical transaction involved negotiating prices, manufacturing and packing the gunpowder, inspecting the gunpowder, arranging shipping and insurance, delivery, and arranging payment. Grinnell, Minturn and Company's first gunpowder order with DuPont illustrates the complexities of the process.
Grinnell, Minturn and Company began discussions with DuPont sometimes in late 1854 or early 1855. The initial dialogue between the firms was verbal and covered details such as the type and amount of powder to be purchased and a timeframe for delivery. Much of the interactions between DuPont and Grinnell, Minturn and Company were verbal and are mentioned throughout their subsequent written correspondence.
---
DuPont developed the business methods used in their dealings with Grinnell, Minturn and Company soon after they began operations in 1803. The process for making an order, negotiating prices, delivering, and paying for gunpowder remained virtually unchanged throughout most of the 19th century.
Similarly, the company's bookkeeping practices had been in place since shortly before the War of 1812. Raphael Duplanty, one of the company's early partners, helped devise DuPont's record keeping system to eliminate confusion and bring order to the company's books.
DuPont did not significantly change its approach to business practices or bookkeeping until after the death of company president Henry du Pont (1812-1889). Henry, son of company founder E. I. du Pont, joined the firm in 1834 and succeeded his brother Alfred Victor du Pont as president in 1850. The du Pont family exercised direct control over management, personally supervising almost every aspect of the company's operations. Their constant presence within the company contributed to the long period of continuity in the way DuPont did business.
Image: Page from "Notebook, 'When goods are sold...,' Instructions for keeping E. I. du Pont de Nemours and Company's Accounts," ca. 1810-1815