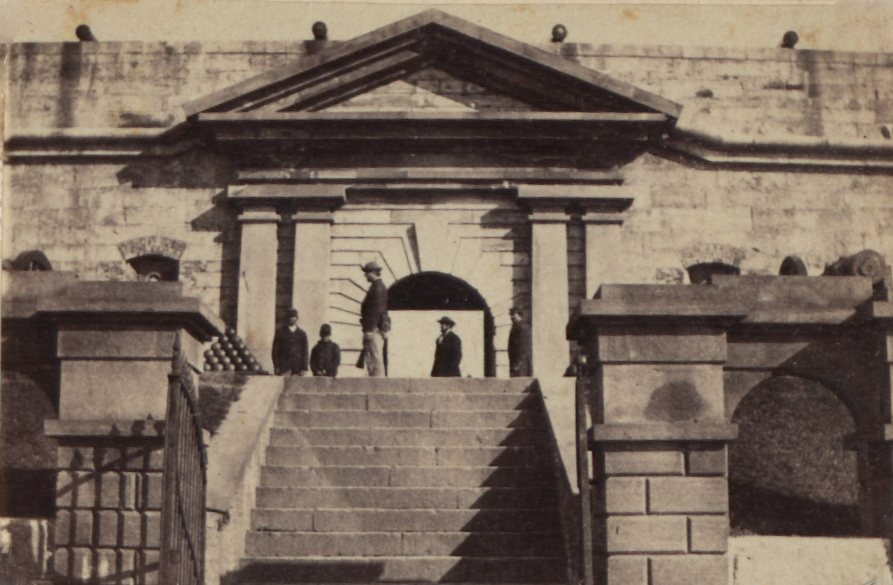 Charles P. Tucker, a native of Westchester, New York, enlisted in the U.S. Army on 28 April 1863 at Fort Hamilton, Brooklyn, New York (pictured). This 18-year-old farmer was 5' 7 1/2 " tall and had blue eyes, light hair, and a fair complexion. Tucker was assigned to 5th Platoon, Left Section, Battery B, 5th U.S. Artillery, later commanded by Henry Algernon du Pont.
Tucker left Fort Hamilton with Battery B on 5 July 1863, when the unit was ordered into active service. Tucker and Battery B spent the remainder of 1863 and the first months of 1864 serving in Pennsylvania, Maryland, Northern Virginia, and what would become West Virginia. Battery B experienced its first combat on 15 May 1864 at the Battle of New Market, in Virginia's Shenandoah Valley. Tucker and his battery later participated in the Battles of Piedmont, Virginia (5 June), the burning of the Virginia Military Institute at Lexington, Virginia (12 June), and the Battle of Lynchburg, Virginia (17-18 June).
By the time of the Battle of Opequan (also known as the Third Battle of Winchester, Virginia) on 19 September 1864, Tucker had become an orderly for Captain Henry Algernon du Pont. Since du Pont was at that time serving as Chief of Artillery for General George Crook's "Army of West Virginia," Tucker spent most of the battle in an exposed position. Both Tucker and Henry A. du Pont had horses shot from under them at Opequan. Tucker then went on to participate in the Battle of Fisher's Hill, Virginia, on 22 September.
CDV of Entry at Fort Hamilton, Brooklyn, New York (Hagley Digital Archives)