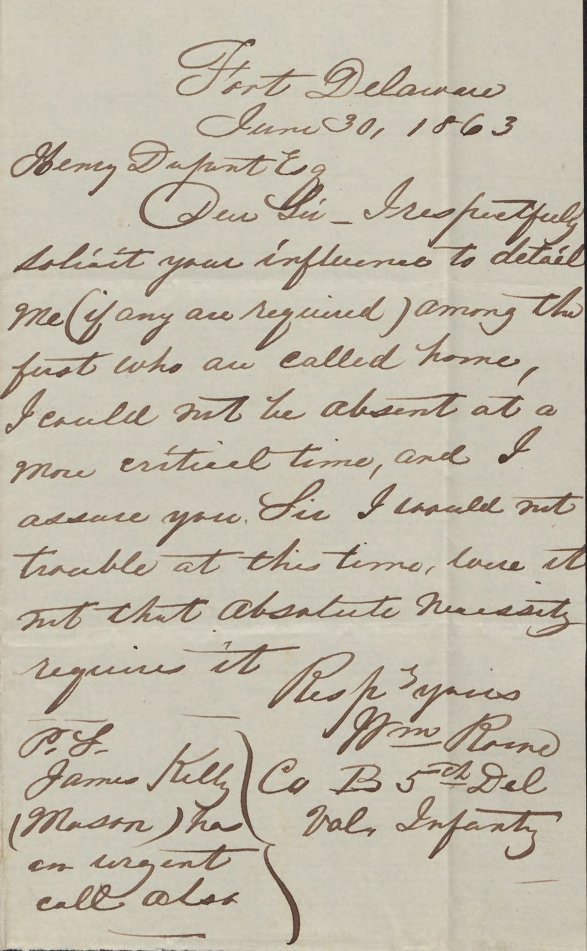 In April, 1861, William joined Lammot du Pont's company (Company A) of the Brandywine Home Guards. Rowe, along with rest of the men in this unit, enlisted in the 5th Delaware Volunteer Infantry Regiment, Company B, on 25 October 1862. He went with Company B to Fort Delaware in June 1863, staying there until military authorities ordered the company to the DuPont powder works on 14 July. Rowe was officially discharged from the 5th Delaware on 12 August 1863.
His discharge certificate described him as being 5' 6½" tall with a fair complexion, brown eyes, and brown hair. Rowe enlisted in Hugh Stirling's Independent Infantry Company on 30 August 1864. He served with this company guarding the DuPont powder works and local railroads until the unit was disbanded on 17 July 1865. William Rowe remained a DuPont employee during his times of military service and appears in the Company Petit Ledgers for the Civil War years.
William Rowe continued working for DuPont after the war until his death in 1897.
Image: Letter from William Rowe asking Henry du Pont to exert his influence to get Rowe transferred out of Fort Delaware. Rowe was a soldier in Company B (Lammot du Pont's company), 5th Regiment Delaware Volunteer Infantry.  (Hagley Digital Archives)